Reversible Marbled Birch Earrings
$65.00 price_excluding_tax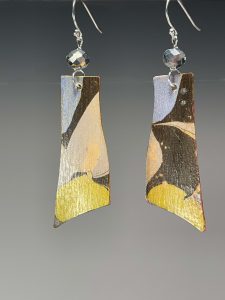 This is the side b of the same pair of earrings.
I create each pair of earrings using an ancient technique of painting on Water called "Ebru".  After shaping the birch wood, using acrylic paint on a liquid bath, I create a floating painting which is transferred to the  wood. This process  is similar to creating a monotype; thus, each ebru is a one-of-a-kind print.
These earrings are double-sided and therefore reversible. They are as light as a feather, featuring a different abstract painting on each side. Each piece is shellacked for durability.
To wear them on the reverse side, carefully slide them out of the ear wire and reinsert them from the reverse side. Please wear/leave the included rubber stoppers on the wires at all times.